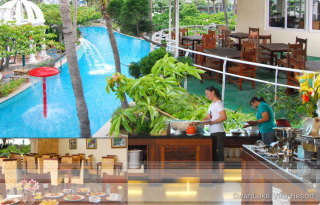 The breakfast service of the swan lake hotel is have you enjoy Chinese food and Western food by local cooking of Kenting in a viking form mainly. There is the place of the restaurant in the second floor of the reception. A meal is done on the room and an outdoor balcony.
Breakfast time 7:30 ~ 10:00

Place: Reception second floor.
Price:Adult NT$250 Child NT$200
※The business of the restaurant is only breakfast.
Karaoke facilities in the restaurant.
Open Time:15:00 ~ 22:00